Hey folks. This is post two of a new format I'm trying whereby I choose a common farming task and ask people to submit their ideas for getting the job done. Last week, I asked readers to send me photos of tricks they use for germinating seeds and/or speeding seedlings along. Below are the submissions I received. And hey...it's not too late for people to submit their own photos for this topic. I'll be happy to add them to this post. For next week's post: I'd love to get a lot of photos of how people anchor their row tunnels/remay/row blankets. editor@theruminant.ca is where you can send them. Okay. This week's photos:
First up is Peter Kok, who is an urban farmer in Penticton. Check out his website here. He's been using old window panes to heat his soil. Says Peter: "The panes are raised about six inches off the soil using some old timber as temporary framing. The panes of glass are not secured on, just laid over top without gaps inbetween. I can't give an exact soil temperature but I do know the soil is quite warm to the touch and things germinated very quickly and are growing like crazy. I also included a picture of a small greenhouse I built over the winter over an existing garden bed. Under the panes I have mostly radishes growing with a bit of spinach and in the greenhouse its spinach, salad greens and radishes. The greenhouse is built with pains of glass and patio doors I scavenged as well as with recycled wood. The carpentry is far from what we would call trim but it works all the same."
Thanks Peter. Next up is a simple row-tunnel system Vanessa and I are using for our seedlings:
I featured these Ogre's clothespins in a previous post. They're easy to make out of recycled lumber and old inner tubes. The hoops are made from recycled electrical conduit and are quite rigid if you run a string along all of them. One-foot pieces of rebar work really well for mounting the hoops as well as anchoring the whole shebang at each end. As you can see, it's easy to use the Ogre pins to hold up the plastic when you want to vent the system:
Overall I found the conduit combined with rebar combined with the ogre pins to be an excellent row tunnel set-up. It's kept the seedlings a few degrees warmer at night, which is great since we're just starting our market garden and don't have an indoor seed-starting setup yet.
Next up: John Mardlin and Jill Dalton show off their new seedling watering system at Northbrook Farm:
http://www.facebook.com/video/video.php?v=10150118589602385
Got questions about anything you see? Post a comment at bottom and I'll try to facilitate discussion. Moving on...
Daniel Brisebois is a farmer at Tourne-Sol Cooperative farm in Quebec and co-author of Canadian Organic Growers recently released Crop Planning for Organic Vegetable Growers. His blog about seed production is called Going to Seed. Here's the germination chamber he uses at Tourne-Sol:
I also received an email from Joanne at M'Clintock Valley Farm in which she told me using a heat mat for the first time worked wonders for her onion starts. She also used kelp: "I soaked the soil with a solution made with liquid kelp (Kelpman), scattered the seeds on top, then covered with more soaked soil. I had been told before that a seed soak with seaweed emulsion works very well to speed germination." Joanne sent me a picture of her onion starts:
April 5/10: more submissions have come in. Here they are:
Owen Bridge of Annapolis Seeds in Nictaux, Nova Scotia shared this great seed-starting setup: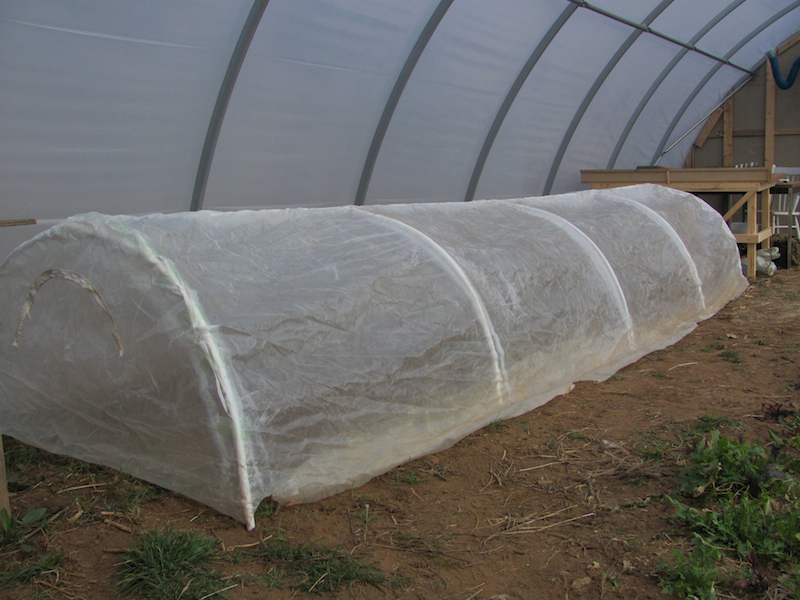 Next up: Shannon Jones and Bryan Dyck run Broadfork Farm in the South Shore area of Nova Scotia, and sent in these photos:
Finally, there is the force of will technique:
That's all I've received so far. Thanks to those who submitted. If any readers want to send me photos of their own germination techniques I would be happy to add them to the post. And I encourage people to leave comments or questions, which can be done below.
This blog is only as good as the submissions I receive. Here's next week's topic :
What are your techniques for anchoring remay/row covers/row blankets?
Submissions can be sent to editor@theruminant.ca
Happy Farming and Gardening people.